Essingen
On the paths of the pilgrims of St. James
Palatinate | South route on the Haard axis
Wendelinus Chapel
N49° 14' 6.52", E8° 09' 44.13"
10. Nave and choir tower with murals (14th/15th c.).
The so-called "upper church" of Ober-Ossingen, formerly also equipped with a small St. Wendelin altar, was consecrated as a patrocinium to "Beatae Mariae Virginis". The church is mentioned in the "codex edelini" as a fief of Egeno von Kirrweiler as tithe lord. The founding period of the church probably dates back to the 10th/11th century. With its "al secco" wall paintings, dating from the 14th/15th century, depicting a perfect Marian cycle, the interior of the Wendelinus Chapel allows one to get an idea of the aura that the church interior radiated to people in the Middle Ages.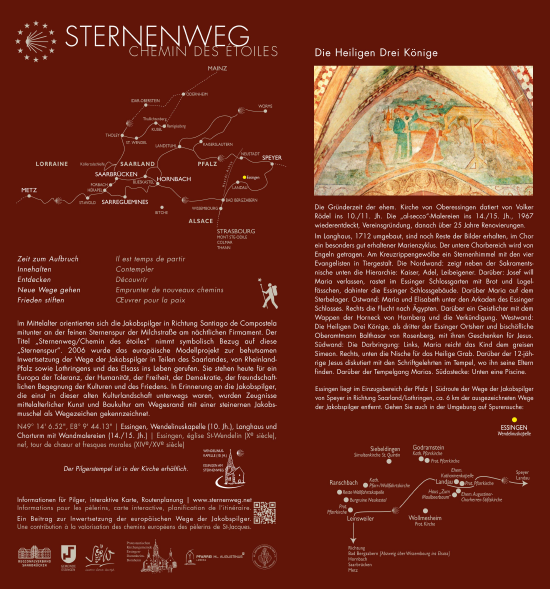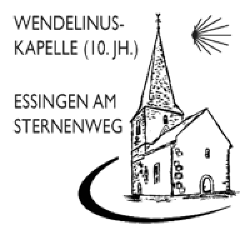 The pilgrim stamp is available in the church.
The inauguration of the stone scallop shell and the information board took place on August 23, 2020, 2 pm in the Wendalinus Chapel. Project manager Peter Michael Lupp presented the European model project in this context with a picture lecture.
Sponsors on site: Heimatverein St. Wendalinus e.V. Esingen, Wilfried Schweikart and Wolfgang Volz, Tel. 0049 06347 / 919221, e-mail: w.volz@unser-essingen.de